Maintain Additional Pay
Update coming soon.
The Maintain Additional Pay eDoc is used to update a particular additional pay value or to stop an additional pay. 
Maintain Additional Pay eDoc Process
In One.IU navigate to the eDocs tab in the HRMS Portal. 
If this is your first time logging in, check here – How to access eDocs
Click on Maintain Additional Pay.
The Maintain Additional Pay eDoc is made up of two major sections: Additional Pay and Additional Pay Earning.

Maintain Additional Pay Document Lookup:
Look up the employee for whom you want to maintain an Additional Pay, by entering the required information into the appropriate areas (University ID and Earn Code) and clicking on .

Select Maintain Additional Pay Document in the Actions column. If the search returns multiple job records, select the job record with the most recent effective date. Note: The full eDoc returns; edit the appropriate values.  Data on the right side that has been updated is highlighted in yellow. This not only helps you confirm any changes before submitting for routing, but also helps approvers note changes when they review the eDoc for approval.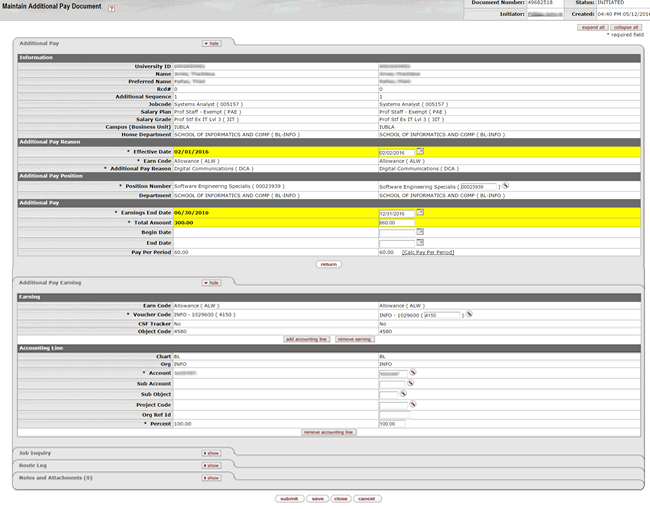 In our example, we are extending the Additional Pay to December 31, by changing the Earnings End Date value.  Note: Since we are only extending the Earnings End Date in our example, we had to update the total amount to ensure that the Pay Per Period amount remained the same.  Also Note that the Effective date defaulted as 2/2/2016.  This the Additional Pay behavior logic. The Effective Date must be greater than the Effective Date on the left side of the document and may need to be adjusted based on the employee's job row effective dates.
Reminder: Additional Pay Earning
On many eDocs, we've provided the opportunity to update funding. But, in this example we have chosen to leave the funding as is.
Notes and Attachments
Below is a typical note you might add. You may also add an attachment such as a spreadsheet, PDF file or a Word document.

Once you've reviewed your eDoc one final time, select

to route the eDoc for approval. The eDoc should say, "Document was successfully submitted.". Now select

at the bottom of the document. Note that the status has changed to "ENROUTE".
Take Action
During document preparation you may want to save or close the eDoc to finish it later or for whatever reason you may have a need to cancel it. Otherwise, once you have reviewed your document and you are ready to route it, you will be presented with the possible actions listed below.
| | |
| --- | --- |
| | Take this action when you have completed and reviewed your eDoc and you are ready to submit for routing. |
| | This action saves the eDoc back to your Action List if you need to complete and route it at a later time. |
| | This action closes the eDoc and appears once you save, cancel or submit for routing. |
| | This action cancels the eDoc for you. Please use the cancel button rather than the "X" in the upper right corner of your browser screen. Closing an eDoc using the "X" in your browser, will leave the eDoc in INITIATED status, causing any further actions on the employee's record to be blocked without help from the HRMS Support Center. |
The full screen will appear as below: